MILAN DESIGN WEEK 2023
THE SYNTAX OF MAKING
For Milan Design Week 2023, Fornasetti is expanding its universe of furniture and accessories for the home with three new collections that express the unique, artisan savoir-faire hidden behind the Atelier's creations.

The cataloguing, selection and visionary combination of images, the unmistakable black stroke of the screen-printed drawing and the manual application of colour that creates intriguing, textured layers all contribute to the Fornasetti syntax of making, which still follows the same path that began in the 1940s.

Decorated cabinets and bedside tables take on new polyhedric shapes in smaller sizes suited to contemporary living, while maintaining the magnetic power of Fornasetti décor. Mirrors, lamps and other furnishings contribute to creating themed microcosms in every room of the house. Hand-decorated porcelain enriches the journey into Fornasetti's creative universe for Milan Design Week 2023.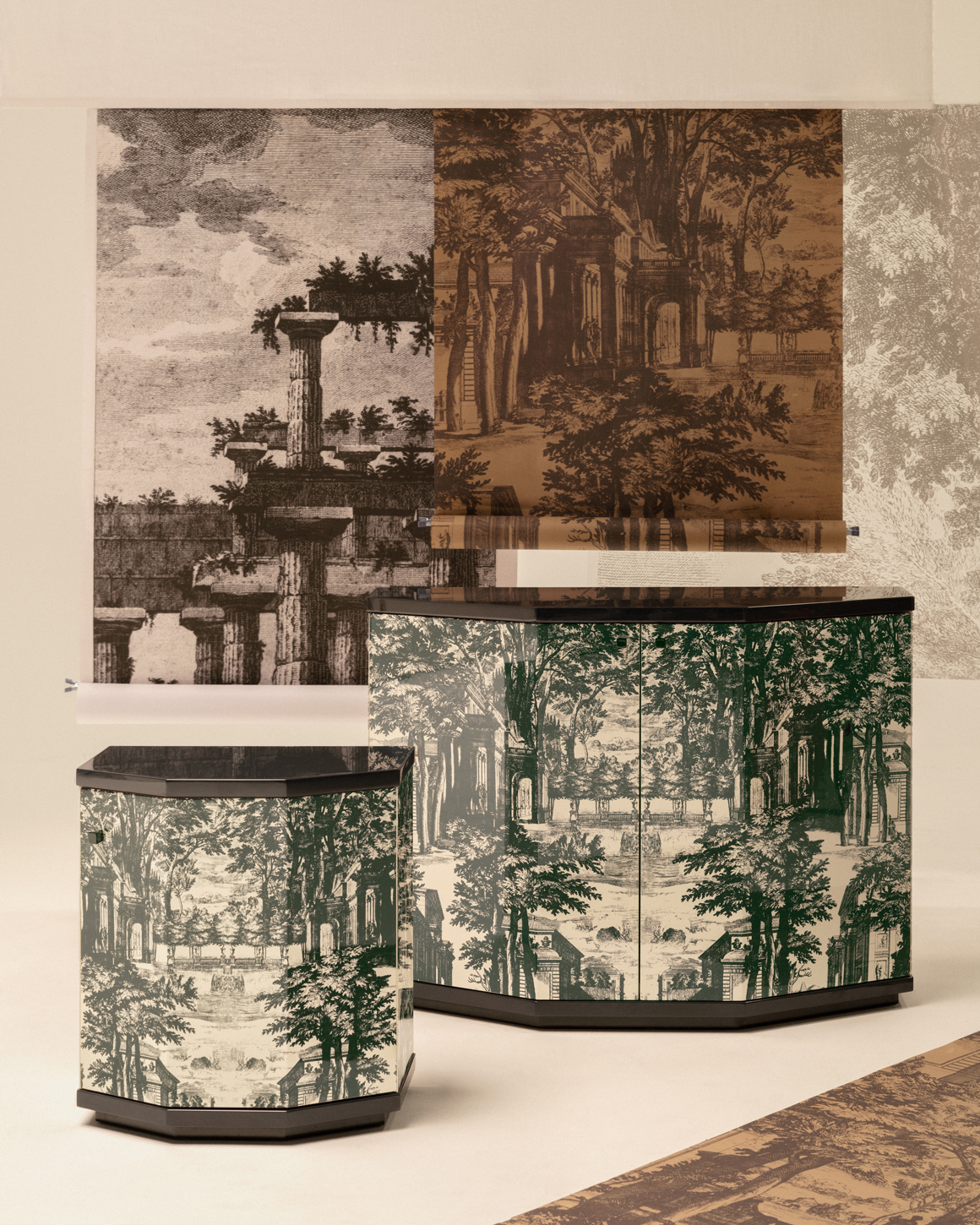 GIARDINO SETTECENTESCO
Fantastic landscapes and neoclassical architecture coexist in a setting that combines whimsy and precision. A mysterious landscape welcomed by the original, multi-faceted surfaces of Fornasetti storage furniture.
Discover all
THREE COLOUR VARIATIONS
The reflective games and perspective tricks of the Giardino Settecentesco are available in three different colours. All furniture and accessories in the collection are hand-printed using the original 1940s techniques.
MUSCIARABIA CON ROSE
Intricate black and white geometric labyrinths are enhanced by hand-painted roses in bloom, in a balance between the mathematics of drawing and the poetry of nature. The small lamp is a novelty especially for Milan Design Week 2023.
Discover all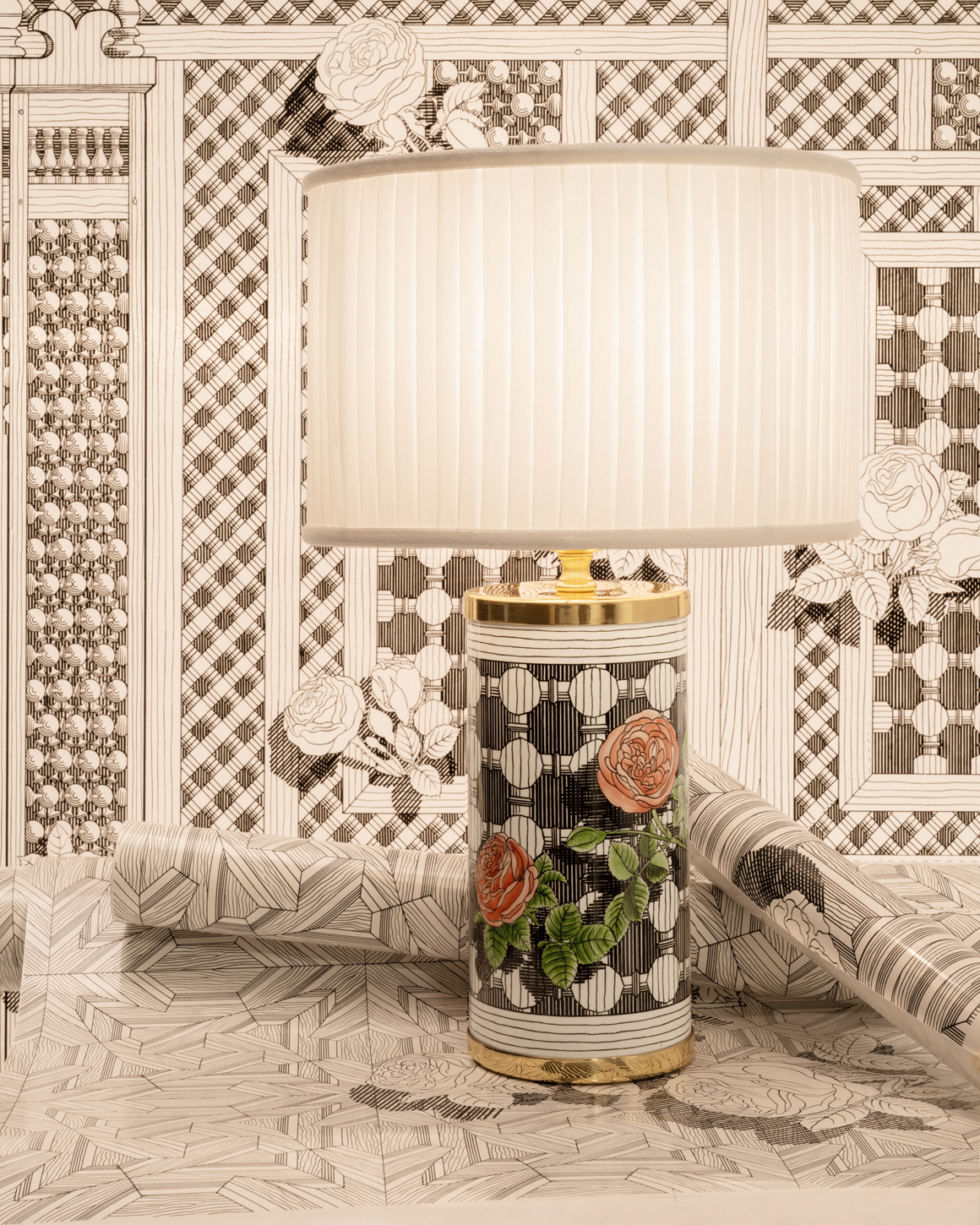 LIGHT, VERSATILE DESIGN
The new Fornasetti furniture and accessories for Milan Design Week 2023 have lighter, more versatile designs that adapt and give character to even the most intimate rooms. Everyday gestures become artistic.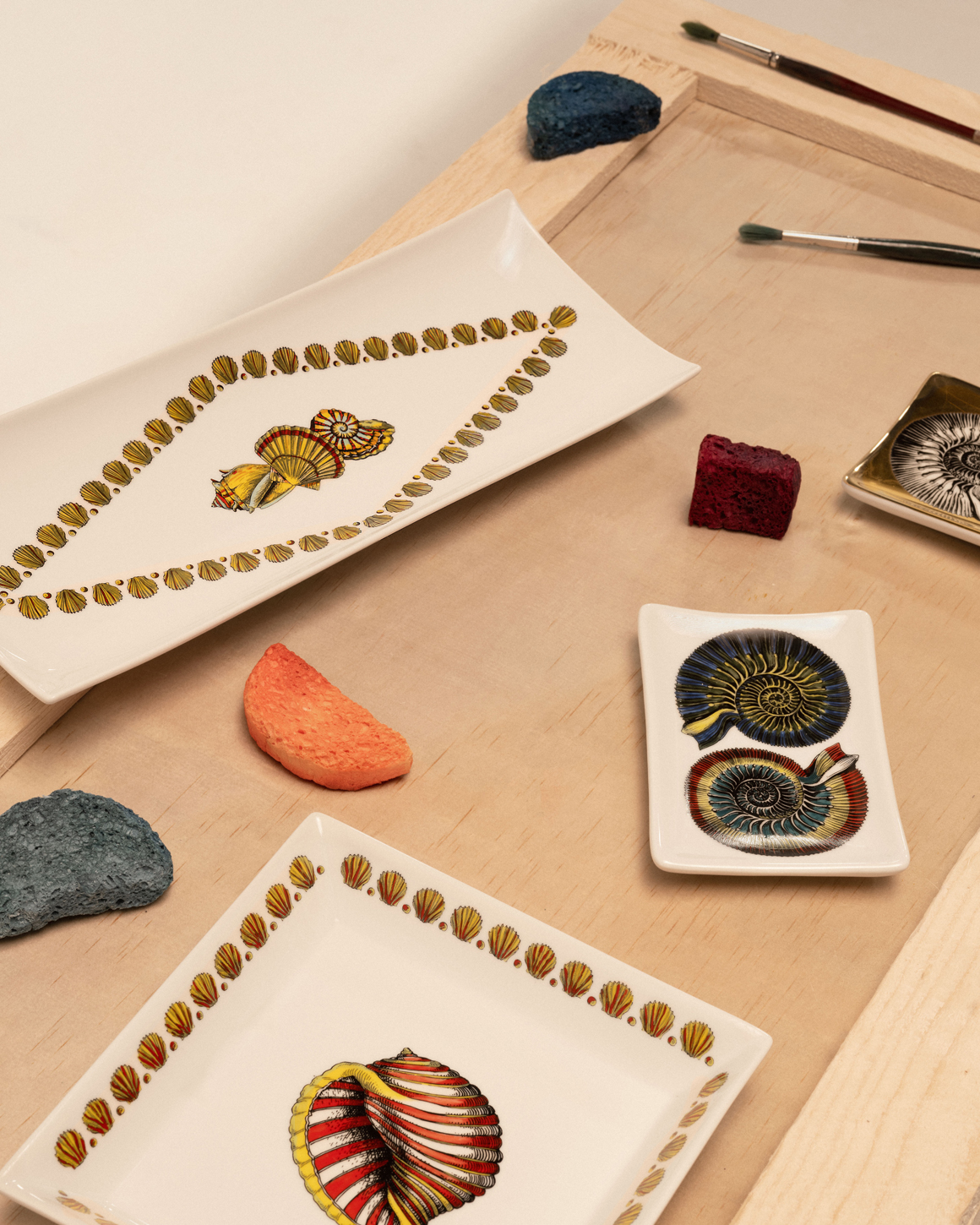 GIRO DI CONCHIGLIE
A celebration of games of illusion and savoir-faire, inspired by the marine world. In the porcelain collection the numerous stages of painting give the drawing three-dimensionality and brightness.
Discover all
TEXTURED EFFECTS
On the furniture and furnishing accessories the shells are lit up by hand-applied silver leaf, while the marine background is made with refined textured effects.
The new collections will be unveiled at the Fornasetti store in Milan from 17 April for Milan Design Week 2023.