COLLECTORS' ITEMS
CALENDAR PLATE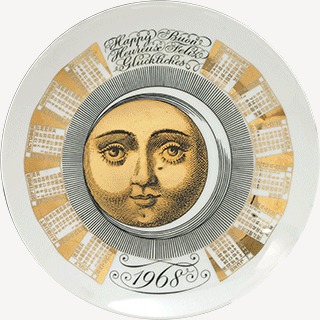 The tradition of the Calendar Plate embraces the Fornasetti spirit: an everyday object carrying a message or idea, that multiplies according to the principal of infinite variation. A greeting that becomes art.
Every year since 1968 Fornasetti has unveiled an image in the form of a short, ironic or light-hearted story, without using words, but comprehensible to anyone who believes in poetry.
THE 2022 CALENDAR PLATE
The past and the future exchange glances through the iconic Fornasetti keyhole: art and poetry transcend the ages. Just like the plates that came before, the 2022 edition is a hand-decorated, limited-edition collectors' piece.