HOME FRAGRANCES
TIME, SUSPENDED
With Fornasetti candles, design and fragrance meet in a sensory experience where seems to stand still. An invitation to turn minutes into moments that make space for beauty and imagination.

Each fragrance opens the mind to a new place. Each flame fills the room with a different light. Each burning candle marks a moment to savour and remember.

Fornasetti candles are creations to be preserved and handed down, destined to live multiple lives and to be rediscovered over time as objects of inspiration.

Explore the three new Mascherina, Soli and Giardino Settecentesco designs.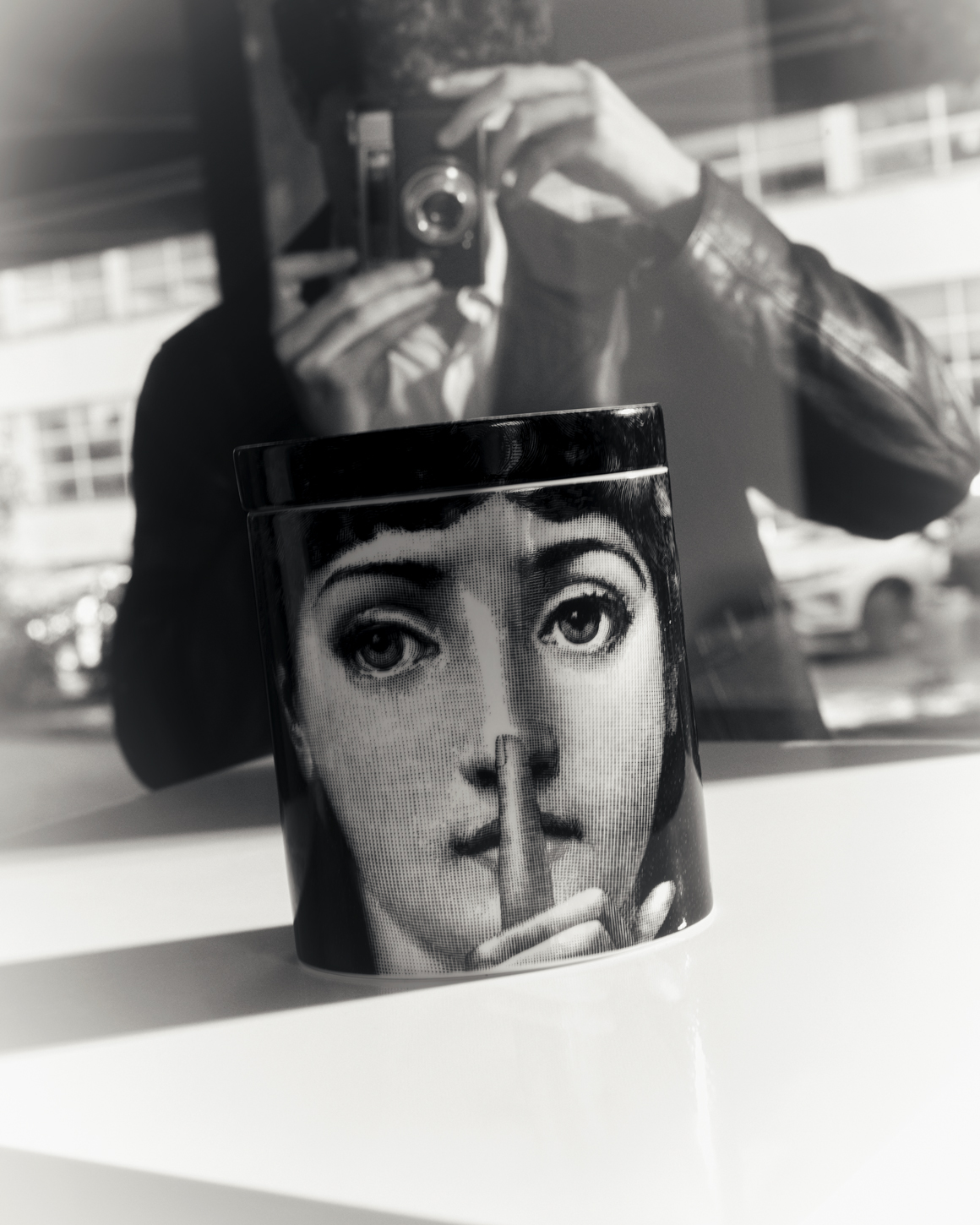 Frutto Proibito is a seductive fragrance. It awakens the senses with Mediterranean and citrus top notes that embrace the scent of jasmine.
An enveloping temptation that becomes a metaphor for springtime rebirth.
View all
THE MASCHERINA DÉCOR
ENIGMATIC GLANCES
The meeting between Lina Cavalieri's face and the snake is expressed in the two most captivating and mysterious designs of the series, with the golden mask making the glance even more enigmatic.
The Immaginazione fragrance is the quintessence of the Atelier's imagery and of its most iconic motifs: a harmonious, visionary dialogue between the ancient and the contemporary.
Elegant yet intense, it is a combination of Mediterranean herbs from Casa Fornasetti's garden with cedar and sandalwood producing woody, aromatic notes.
View all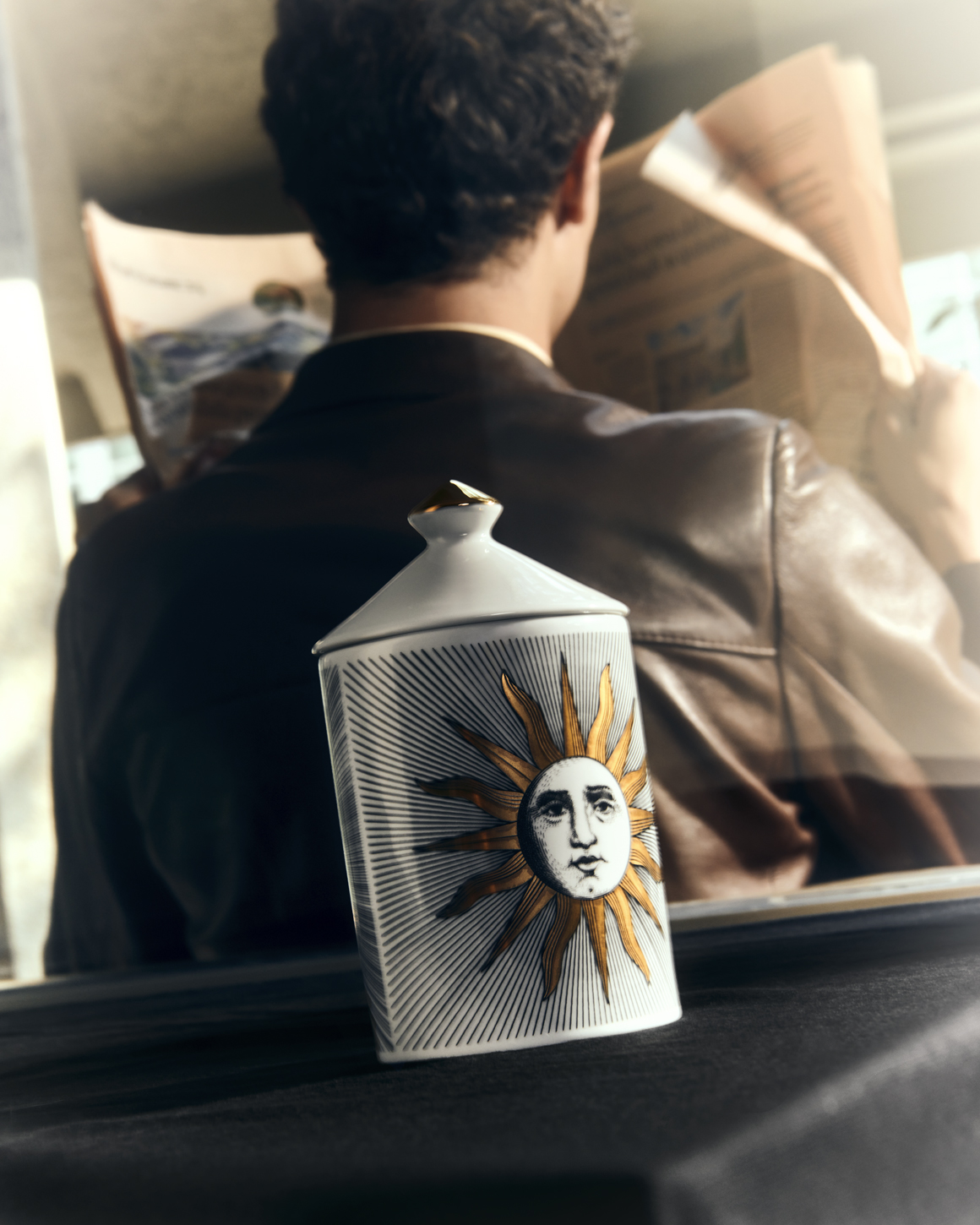 NEWS: THE SOLI DÉCOR
TIMELESS LINES
Two designs that celebrate the cult of the black line inspired by collections of antique prints: an essential, refined stroke that transforms the Soli and Architettura candles into timeless objects.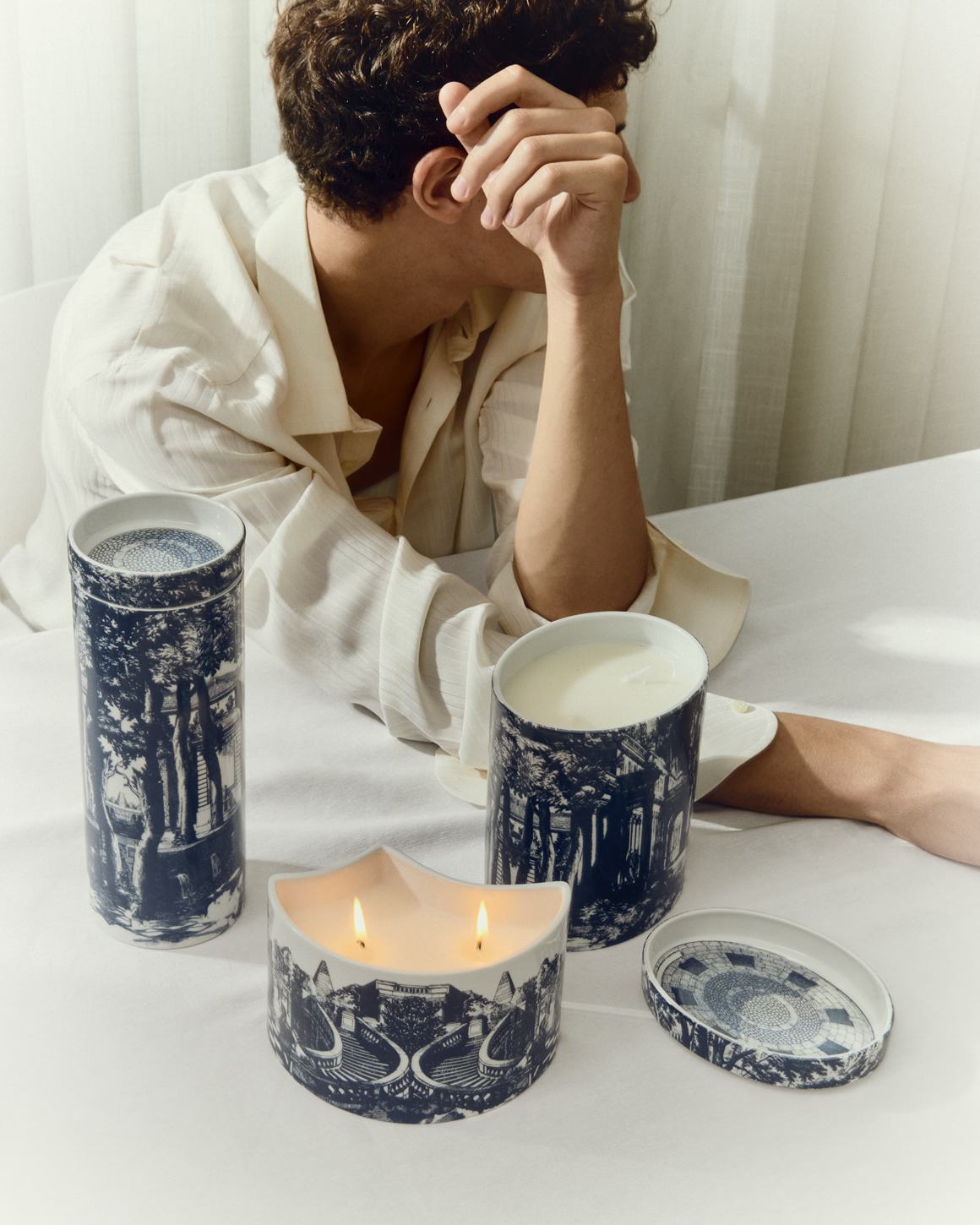 Giardino Segreto is a treasure trove of scents that emerges from the wild, lush natural world as a web of herbs and foliage.
A secret undergrowth that takes on mystical, eccentric traits thanks to the enveloping presence of myrrh, sandalwood and ebony.
Discover more
NEWS: GIARDINO SETTECENTESCO
DREAMLIKE SCENES
Two different garden concepts: capricious and poetic in the new, eighteenth-century version, or free and colourful with butterflies flying over neoclassical balustrades.
HOW TO
SUSPEND TIME:

you'll need a candle, its flame, and its fragrance.

FIRST
Find a place that feels right. Keep away from air flows, opt for straight, heat-resistant surfaces, and make sure the candle has lots of free overhead space.

THEN
Light a flame, let it burn for a while: if you light it only to put it out right away, the candle might sink in the middle.

NOW
Focus on the flame: let your imagination run free for two hours (without counting too much). The best flames are achieved with a burn time of 2 up to 4 hours.

AT THE END
Extinguish the flame with the lid or with a wick dipper. Above all, don't blow. And don't forget to say goodnight.

THIS FLAME-BASED, TIME-STOPPING RITUAL IS FOR ONE OR FOR MANY, FOR NIGHT OR FOR DAY. REPEAT AT WILL.